Dentist Carol Stream, IL - Kim Battisto, DDS
Thank you for visiting Kim Battisto, DDS, your experienced dentists in Carol Stream. Exceptional patient care, state-of-the-art equipment and a complete range of dental services-that's why our practice is recognized as one of the most professional and compassionate dental practices in Carol Stream.
Serving patients in Carol Stream is the foundation of our practice. By staying abreast of the latest dental technologies and procedures, Kim Battisto, DDS can provide the most advanced, personalized dental care for you and your family. You'll feel at ease with our friendly staff, caring Carol Stream dentists and comfortable office setting.
This website has been specifically designed to familiarize you with our staff and office procedures here at Kim Battisto, DDS. Check out our complete list of services , such as general dentistry , teeth whitening , crowns , preventive care or periodontal exams . Or, browse our educational patient library, find directions to our Carol Stream office.
New patients are always welcome. Our Carol Stream dentists look forward to meeting you and being your lifelong partner in dental health.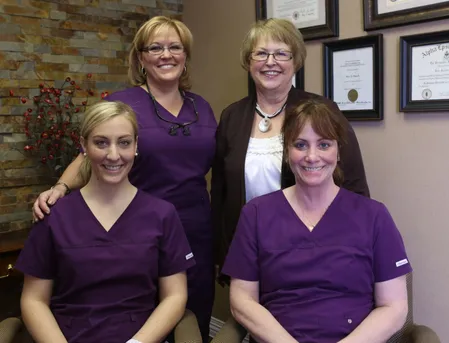 Healthy, confident and comfortable-that's how you'll feel each and every time you visit Kim Dubovik-Battisto, DDS, experienced dentists in Carol Stream. We seek to provide the best in quality care for our patients that we would desire for ourselves and our own families. We do everything possible to make your dental visits as pleasant as possible by creating a stress-free dental experience combined with quality, compassionate care from our experienced Carol Stream dentists.
We offer a full array of treatments in our City office to bring you a beautiful, healthy smile. Our caring team will work with you to map out a dental plan that fits your personal needs, goals and lifestyle.
Our services include:
Invisalign invisable braces
At Dr. Kim Battisto's Office we believe patient education is the key to improving and maintaining the health of your smile. To help you reach your optimal health and understand your options, we've created this educational website. We encourage you to browse our patient education library, office details, services page and staff credentials for more information about our practice.
No matter the scope of your dental problems, we will treat you with genuine concern and compassion. We want to be your lifelong partner in dental health. Feel free to contact our Carol Stream office with any questions.From routine cleanings and fillings to bruxism devices, Kim Dubovik-Battisto, DDS is equipped to handle all your dental needs. To help you understand your options, we've included descriptions of some of our leading services on this page.Meet The Dentist